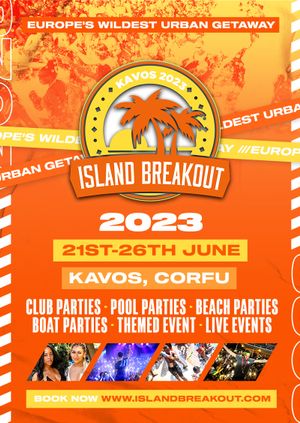 Island Breakout 2023
21st - 26th Jun 2023
Add to Calendar
Event Details
ISLAND BREAKOUT 2023
Europe's Wildest Urban Getaway & the holiday with the most vibes returns!
WEDS 21SD JUNE - MON 26TH JUNE 2023 // KAVOS, CORFU
☼ 5 Days & Nights
☼ The biggest DJ's & MC's in Europe
☼ 10+ events
☼ Club Parties
☼ Beach Parties
☼ Boat Parties
☼ Pool Parties
☼ Live Events
Music Policy:
R&B // Hip Hop // Dancehall // Soca // Afro Beat // House & Funky // Trap // UK
▬▬▬▬▬▬▬▬▬▬▬▬▬▬▬▬▬▬▬▬▬▬
18+ Government ID Required
IB Package Includes:
5 DAYS & NIGHTS OF FUN
ACCOMMODATION DURING ISLAND BREAKOUT [Based On 2-4 People Sharing A Room]
ENTRY TO ALL ISLAND BREAKOUT STANDARD EVENTS
**Events Only Pass gives you entry to events, you will be responsible for booking your own accommodation**
NB: If putting down a deposit, you will be sent a confirmation e-mail from bookings@islandbreakout.com (please check for this), which will include details of how and when you will need to pay your instalments. Travel: You will need to book your own flights to Kavos (Corfu). Corfu International Airport is the only airport on the Island. Please shop around for the best prices as airlines tend to release new flights to Corfu throughout the year. The Island Breakout website also has a flight search engine to help you on your way.